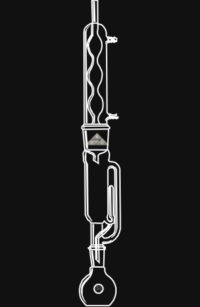 Soxhlet type extraction apparatus used for continuous extraction of solids with a suitable solvent. Extractor uses paper or glass thimbles. Condenser has an enlarged uptake tube to improve condensing capacity. Complete apparatus consists of an Allihn condenser, extractor and flat bottom flask.
---
Small
Mediume
Large
Replacement Components:
Condenser Only,Small
Condenser Only,Mediume
Condenser Only,Large
.
Extractor Only,Small
Extractor Only,Mediume
Extractor Only,Large
.
Flask, 125mL, Flat Btm.
Flask, 250mL, Flat Btm.
Flask, 300mL, Flat Btm.
| | | | |
| --- | --- | --- | --- |
| | Small | Mediume | Larg |
| Extractor Top Joint | 34/45 | 45/50 | 55/50 |
| Extractor I.D. (mm) | 30 | 38 | 50 |
| Extractor Capacity (mL) | 50 | 85 | 200 |
| Extractor Lower Joint | 24/40 | 24/40 | 24/40 |
| Glass Thimble Size (mm) | 25 × 85 | 35 × 90 | 45 × 130 |
| Paper Thimble Size (mm) | 25 × 80 | 33× 80 | 43 × 123 |
| Flask Capacity (mL) | 125 | 250 | 300 |